喬丹籃球教學 英文影片翻譯
http://www.youtube.com/watch?v=lxKFJnWt6sE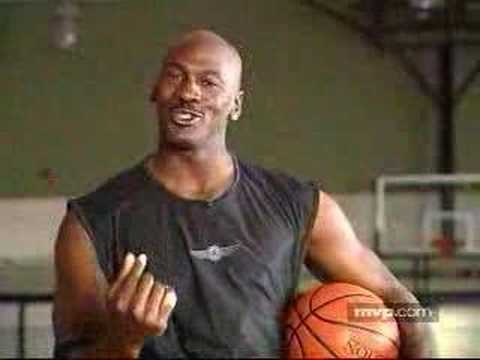 請問有人能幫忙翻譯這個影片嗎
2 個已更新項目:
各位朋友 在意見區有 jim ( 大師 1 級 ) 其他的回答 請參考一下謝謝
這個影片三分鐘,英文加中文翻譯字數會超過太多,很容易被刪除.建議您分兩段發問.

2011-06-18 20:58:11 補充:

A good practice tool. You have seen these situations even in games. When I step to the free throw line and I'm just joking around, I may shoot the free throw with my eyes closed. well, the purpose I shoot the, shoot with my eyes closed is that I want to believe in the foundamentals I've been taught or been practicing. so the best way to do that is do it with your eyes closed. nothing changes. when you step to the free throw line, and you go through your ritual, you check your target, now that you close your eyes, you think the dimension changed? No!! You're still 15 feet from the basket. your rim is still 10 feet high. so everything should be kept on the same plain. if you have total comfort, on your free throw stroke, or your foundamentals, you should be able to make that shot. not just going to shoot with the same percentage, but when you release it, you know it's in the same target, at the same target with the same type of shot. so, your practice tool is to start go through your ritual, see everything, make the first one with your eyes open, so now you have everything in a rhythm, then go through the same ritual, look at your target and right before you shoot it close your eyes. it shouldn't change. now that's a good practice tools now. a lot of guys who don't have comfort in their free throw shot, when they close their eyes, either shoot it short, shoot it right, shoot it left. and that's a good way to test your foundamentals under pressure because when you can shoot it with your eyes closed, quite naturally you can shoot them with 64 thousand people paying attention to your shot. another tool for getting a correct back spin as I talked earlier about when the ball hits the rim and starts to bounce around a little bit, may give you a better chance of making the shot.

2011-06-18 21:05:18 補充:

cause when you're laying at home at night,and you're really bored, take your basket ball which you probably sleeping with it if you are a basket ball player. and shoot straight up, lay your head on the pillow, shoot it straight up, and try to have the basketball come bak on your nose.

2011-06-18 21:06:46 補充:

Now if you can do that, and do it with some consistency, then you get the correct form of a shot. not just a free thorw shot, but a shot in general, and the best way to do that is take it and finish it.

2011-06-19 00:40:08 補充:

what I used to do is I try to shoot it straight up and catch it right on my nose. As you can see, the finish and everything the back spin is perfect, you're shooting it off these three fingers, now if you're using these two fingers,

2011-06-19 00:43:01 補充:

the ball is gonna start to go left or right. and is not gonna end up on your nose, it's probably gonna end up on your ear or miss your ear to the left. and these are thoughts you should work on just trying to enhance your correct follow through and your correct form as a shooter.

2011-06-19 00:45:07 補充:

they work for me, they may not work for you, but at least give it a try, next thing you know you are a better free throw shooter.

這些字都很簡單,查一下字典,有問題歡迎到我信箱發問

我也不是完全聽不懂 只是英文程度不夠好 無法把它翻成 中文的句子

我只是覺得這個影片 很好 很有意義 對有心要學習籃球的人 很有幫助

如果我英文程度夠好 我會願意幫助其他人 然後就直接在影片下面的回覆留言了

不是答案太多的問題, 如果今天換你回答, 你願意花這麼多時間在這嗎, 還是寧願去做其他你更想做的事?

good pratice tools.

when i step into free thorw line罰球線.set your target.設定目標

make the shot,do as I closed my eyes.still 15 feet from the basket離籃球架15呎,rim is 10 feet high籃框10呎高.you have totally confidence.you release it投出.you have everything in rhythem韻律.a lot of guys do'nt have confidence in free throw shot.

shoot straight-up,came back from my nose,catch it right above my nose.do as consistency持續做.it works for me,maybe not works for you.at least you give a try.